I used to use a quote on my resume from a Director for whom I had shot a film in Chicago who said:
"I don't know about cinematography, but have you had one of his margaritas after the shoot?"
This likely gave several bits of information about me, first and foremost, that I make a great margarita. That much is true, but it doesn't necessarily say that I am an accomplished Image Creator, Cinematographer and still photographer, was the quintessential kid who fell in love with movies at an early age and grew up to be a big kid playing with cameras.
A Chicago native, I graduated with a degree in film from Columbia, worked for the Oprah show, and shot several Indy features and short films around the Midwest. Around that time, Chicago Independent Magazine gave me another quote when they reviewed the Lifetime-aired feature film Solstice.
"Jeff Gatesman graces Solstice with excellent cinematography not typically seen in independent films."
On To California
I packed my bags and moved to Hollywood to work on big feature films where I honed my skills and worked my way up to being a Director of Photography by working as a gaffer on Hollywood Studio films and national commercial spots alongside world renowned DP's Dante Spinotti, Haskell Wexler, Dean Semmler, Janusz Kaminsky and Mauro Fiore.
My technical experience covers the complete spectrum of film making, from 16 and 35mm film, to high definition video and digital capture in all of it's various configurations. I have shot 3D films and commercials, lugged heavy beam splitter rigs through the  Yucatan rain forest to shoot Mayan Ruins in 3D, shot the Amazon River in anamorphic High Def video, strapped cameras to roller coasters and race cars, and shot a herd of stampeding buffalo from a moving pickup truck. Most importantly, I believe in the storytelling power of images, and will always strive to first tell the story with the camera.
Kudos
Nominated for a 2012 Black and White Spider Award, the leading International Award for Black and White Photography, for my image of a 1957 Pontiac.
Nominated for an International Color Award in the Photography Masters Cup for the image Derby Doll 2010
Won a Gold Aurora Award for Amazonas, a documentary shot on location in the Brazilian Amazon
Won a Platinum Telly for Next Opinion, shot on location in Santo Domingo, D.R. for Microsoft.
Honorable Mention from the Advertising Photographers of America for A Quiet Bright Reedsong, portrait of a Whirling Dervish.
I was also the DP for the documentary film See What I'm Saying, that did this:
I have shot all over the world, in Belfast, London, Cambridge, Johannesburg, Taipei, Hong Kong, Prague, Dominican Republic and Brazil, and am a member of The International Cinematographers Guild. You can check out my credits on my IMDB page.
Contact me for your very next production and just maybe I'll treat you to a margarita afterward.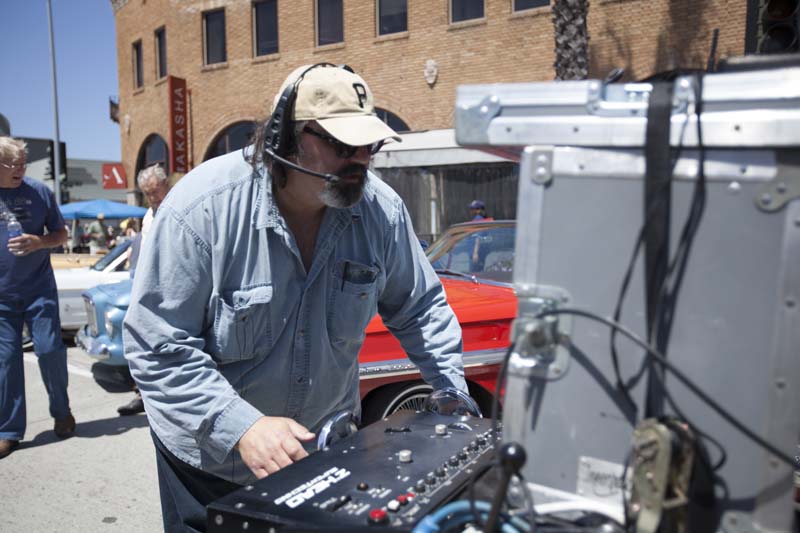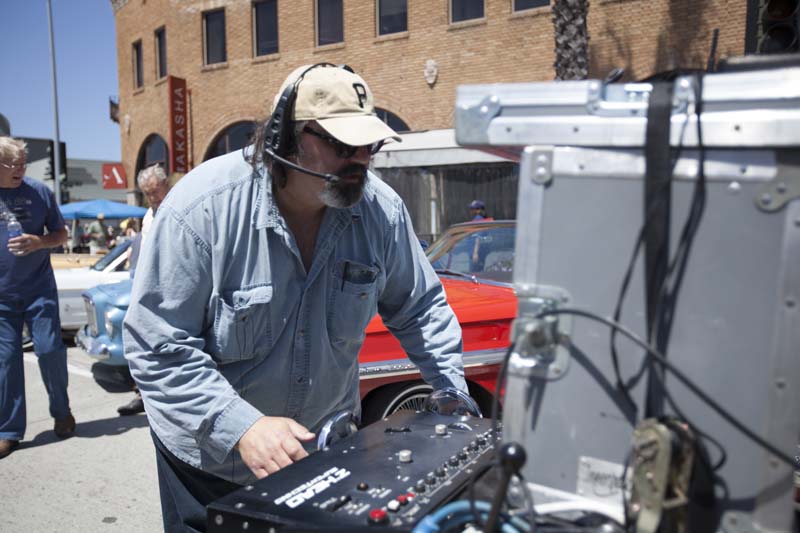 On the set of No Ordinary Hero with Marlee Maitlin and Shoshanna Stern